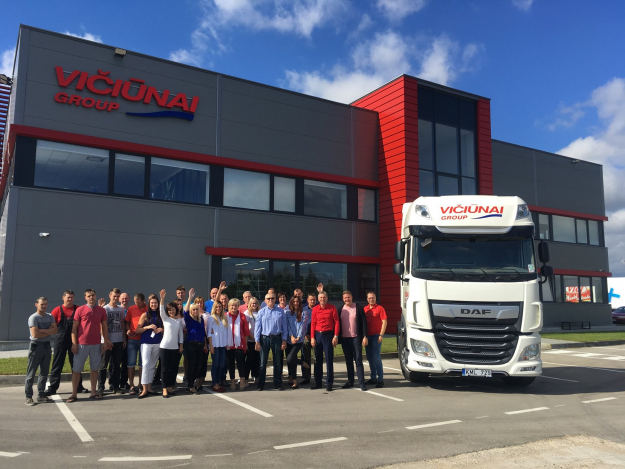 Viciunai UAB was established in 1991 in Kaunas, Lithuania.
Since its establishment, the company has specialised in the transportation of food products requiring temperature control on international routes. UAB Viciunai has its own fleet of vehicles, which is comprised of over ecological 200 trucks that meet the Euro6 emissions standard.
In 2021, UAB Viciunai became one of only 4 transport companies in the Baltic States to be certified under the international IFS Logistics standard. This certifies that goods are transported and stored under the highest storage conditions, which do not compromise the quality of the products. As a result, customers can have confidence in the company's operations and food businesses certified under IFS, BRC or FSSC 2200 are able to have a fully-certified food supply chain, from the product production to the delivery.

Main type of cargo:
Frozen or chilled fish, meat and their products;

fruits and vegetables;

Miscellaneous beverages;

Medical industry products;

Food products requiring a certain temperature regime;

Cargo that does not require temperature controls (furniture, wood, peat, etc.).
The main technical features of our refrigerated semi-trailers:
Temperature is maintained from -25°C to +25°C;

Equipped with certified temperature recording devices (thermographs), which allow operators to control the temperature of the transported cargo during the whole of the transportation, as well as offering the option to print a temperature spreadsheet while on the road;

33 euro pallet capacity and the option to change pallets;

Curtainsider semi-trailers and tank semi-trailers for transporting liquid food products.
Advantages:
All vehicles are equipped with a satellite (GPS) tracking system, which allows accurate information on the temperature and transportation parameters to be available at all times and ensures the traceability of the transportation processes. This data is stored for at least 3 years.

Guaranteed 24/7 communication with vehicles, while any events related to food safety are resolved immediately. We guarantee the provision of prompt and accurate information to our customers.

All company employees are constantly engaged in self-improvement activities, including various courses and professional development programmes.

The Viciunai company is a member of the Lithuanian National Road Carriers Association Linava, and regularly participates in professional development events for carriers where it is a repeat winner.

We offer the optimal and fastest cargo delivery routes.
Transportation locations: Baltic States, Central Europe, Western Europe, Eastern Europe and the United Kingdom.
The company has ~ 300 employees. These include drivers, transport managers and other professionals.
Back to the companies list